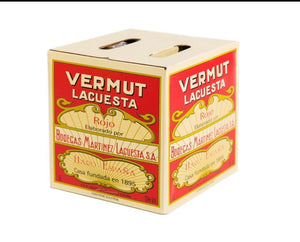 Vermut Lacuesta Rojo is aged in American oak barrels for 3 years before being blended with a white wine base.
The vermouth is then aged for another 3 months in French oak. Careful selection of ingredients has earned Vermut Lacuesta a place among the finest aperitifs in Spain since 1937.
On the nose it is highly aromatic, evoking the macerated herbs used: vanilla, chamomile, gentian and others. In the mouth it is a perfect balance between bitterness, sweetness and acidity with a long finish. Perfect for mixing classic cocktails but also excellent used as the main ingredient within a Marianito cocktail, where 50ml of Lacuesta Vermut Rojo is mixed with a dash of gin, campari and angostura bitters.
ABV15.0%
5 litres tapped bag in box