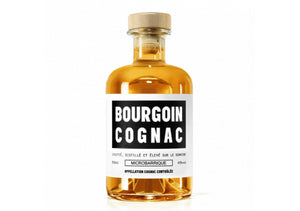 Bourgoin Micro Barique 1998 Cognac is a 20 year old XO eau-de-vie from the Fins Bois terroir that is unique in finishing the aging process in a micro-barrel crocodile heater. This innovative production method transforms the eaux-de-vie into something even more deliciously rich in depth and flavour. By using the "boursinage crocodile", alongside its cask size, the house of Bourgoin have been able to create a softened Cognac packed with sublime aromas which make it a worthy fins bois eau-de-vie that simply must be tasted by Cognac connoisseurs and aficionado's alike.
With a sweet nose and mouth, containing notes of bourbon vanilla, salted caramel and jammy strawberry, the Micro Barrique 1998 is a round, fruity and easy to drink Cognac that will undoubtedly receive well when accompanied by guests.
The house of Bourgoin is a contemporary craft Cognac brand that produces atypical and unique eaux-de-vie, by dedicating its passion and expertise to cultivating the very best vines, through the most natural means possible. With a drive to re-establish Cognac within the French market, Maison Bourgoin offers a unique range of Cognac and non-Cognac products. Meanwhile the brand boasts a strong branding identity which enables their Cognacs to stand out from the crowd.
Presentation of the bottle
Presented in a modern decanter, its design work embodies the house of Bourgoins identity as one of the hottest contemporary Cognac brands on the market. The bottles bold font with black and white labelling allows this Cognac to stand proud on the shelf, and contrast nicely against other more classically designed decanters in the brandy cabinet.
How to enjoy
Sip and savour the Bourgoin Micro Barrique 1998 Cognac from a tulip glass, at room temperature, as the narrow top of this type of glass will delicately distribute the arrival of aromas during the tasting. By adding a dash of ice or mineral water, you are able to alter the tasting experience slightly, as this will open up the aromas even more.