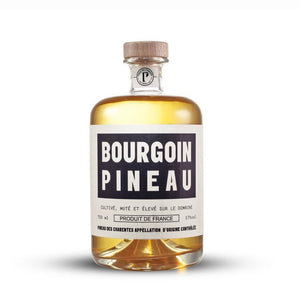 The Bourgoin Pineau de Charentes Blanc is a wonderful blend combining Ugni Blanc grape juice with carefully curated eaux-de-vie. This White Pineau des Charentes is surprisingly light and boasts fresh notes of red apricot from Roussillon. Whilst this Pineau is slightly tangy in taste and evolves with an unprecedented scale on the palate, therefore, it can be enjoyed on its own or refreshingly extended with bubbles.
At the house of Bourgoin, the mutage process is carried out after allowing a slight start to fermentation, this is followed by 12 months of aging in red barrels that once contained old Cognac. The final step includes; an inversion stay in an inert tank for 4 years.
Bourgoin is a contemporary craft Cognac brand that dedicates its passion and expertise to cultivating the very best vines, through the most natural means possible. Offering a unique range of Cognac and non-Cognac products, this family-run business boasts a strong branding identity, which enables them to stand out from the crowd within the world of Cognac.
Presentation of the bottle
Showcasing it's spectacular light golden colouring, the presentation of this decanter embodies the ultra-modern identity of Maison Bourgoin, as it stands loud as one of the hottest contemporary Cognac brands on the market. The bottle's bold font with black and white labelling makes this Cognac bottle noticeable in the drinks cabinet and acts as a sure conversation starter between Pineau aficionado's alike.
How to enjoy
Pineau des Charentes is a versatile product that can be enjoyed by all, for avid cocktail drinkers, it serves as a delicious component that can replace the spirit in many of the classic cocktail recipes. Likewise, the balanced profile of white Pineau des Charentes is adored by wine enthusiasts too. Accompanying a dinner, the Bourgoin Pineau des Charentes Blanc pairs perfectly with savoury dishes such as fish, white meats, seafood, cheeses and desserts. Therefore, whatever your drinking preference may be - there really is a way of drinking Pineau des Charentes for everyone.