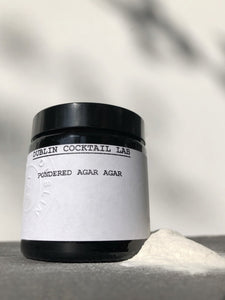 Used for cocktail clarification, Agar is a mixture of two components: the linear polysaccharide agarose, and a heterogeneous mixture of smaller molecules called agaropectin. It forms the supporting structure in the cell walls of certain species of algae, and is released on boiling. 
Both agar-agar and gelatin will clarify your drink by trapping all of the solids that make your cocktail cloudy in a gel. Both substances consist of long chains of molecules that can be "detangled" in hot water. These molecules will intertwine again upon cooling of the liquid, creating a semi-solid mixture.
 If you are using agar agar for the first time, please ensure you are consulting a recipe/method to ensure you get the best results.
We intend for our agar to be used in drinks and later discarded as consuming agar agar may result in some unwanted side effects, such as increased bowel movement and decreased appetite.