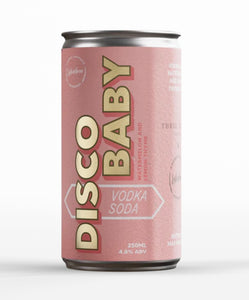 Vodka, Watermelon, Lemon Thyme, Soda
A vodka soda cocktail elevated with natural watermelon and subtle herbaceous notes. The sum is greater than its part though, and can only really be described as balanced, refreshing fruity deliciousness. Light, bright and great for discos.  This recipe was created in collaboration with acclaimed cocktail bar Three Sheets.
Drink chilled from the can, or serve in a highball glass with good quality ice.